I turned my car in Wednesday morning at 8:30 to be fixed. They told me it would be done by this afternoon (Friday). Well they called yesterday and told me it was done. Had it for less than 48 hours and it's already fixed. The receptionist called a little early so I went down on my lunch break to pick it up but had to come back later. S'okay tho cuz I was able to get a couple more things fixed by going early and asking for them. They had put pin stripes on the drivers side and it looked funny cuz as an 11YO car they had worn off on the passenger side. Fortunately the owner of the shop was there and when I asked him how long and how much to do the passenger side he said he'd just do it for me no charge. Also the weather striping on the replacement door had been torn and badly glued by the previous owner of the car that it came off of so I was able to get him to put my old doors weather striping on. It looks soo purty now.
Now on to fiber related stuff. You may have noticed that I joined the Icarus Shawl KAL. Here is my progress to date.
Now that yarn looks a lot darker in this picture than it is in real life. I was looking for a soft grey and this was the best I could find. It's much lighter and has a slight green tint to it. I couldn't find exactly what I was looking for at the time that I was buying the yarn but I was able to find it at the Snake River Fiber Fair last Sunday.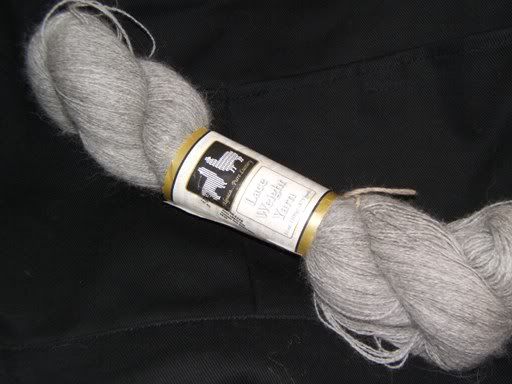 It's 100% alpaca in a very beautiful soft dove grey. I'm making another shawl with that as soon as I'm done with this one. It's normally $27.50 but because it was Sunday and she didn't want to take it home I was able to get it for less than half price.
I also bought TWO whole fleeces. They're Churro and still need to be washed, teased, and carded before I can even think of spinning them. The first one is just a plain natural white.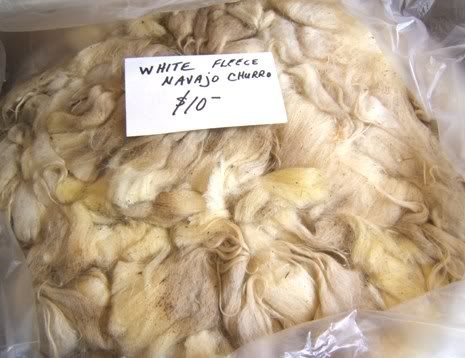 Although it doesn't look white in the pic. That's cuz it's still dirty and needs to be cleaned. So you can see the $10 on the card sitting on top of that big bad of dirty fleece. I asked the lady running the booth, "So is that like $10 a pound or what?" She comes back with, "No that's for the whole thing." I'm thinking something must be wrong with it then and ask why. Well it was so cheap because the lady that she got it from didn't know how to skirt her fleeces and had been throwing fleeces away for years. So she went down and taught her how to skirt a fleece and gave the wool to this very nice lady. Well she didn't want it and didn't have to do much work to get it so she sold it, to me, for really cheap.
The other fleece is a really pretty grey and white. She is a spotted sheep named Willow.
Again the picture doesn't really do the fleece any justice. This one was a little more expensive a whole $15. So now I have 2 whole fleeces that I need to clean, tease, and card. That's almost 10 pounds of wool. It's going to take me a while to do it. Unless I can find someone with a drum carder that I can use. That'll save me a few hours.
I also bought some already ready to go corriedale roving from the owner of my LYS who had a booth up there as well.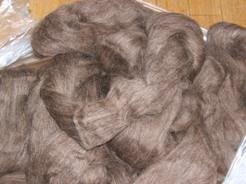 A really pretty chocolate brown. I've spun a little of it up but have left that at home so no pics yet.
I went up with my friend
Tola
.
Image removed at Tola's request.
Who I'm sure is going to kill me for posting this pic but that's okay she'll get over it.
While we were in Idaho I made her show me where the local Jack in the Box was. For those of you that didn't grow up with JITB you don't understand what a wondermous thing this was. I had a Monster Taco and an Egg roll and it was almost better than sex. I'm not kidding. My next goal is to find a Weinerschnitzel. There are 2 in SLC. I just might go to one this weekend after I'm done camping. And for all you doubting Thomases out there here's a pic to prove I went to JITB.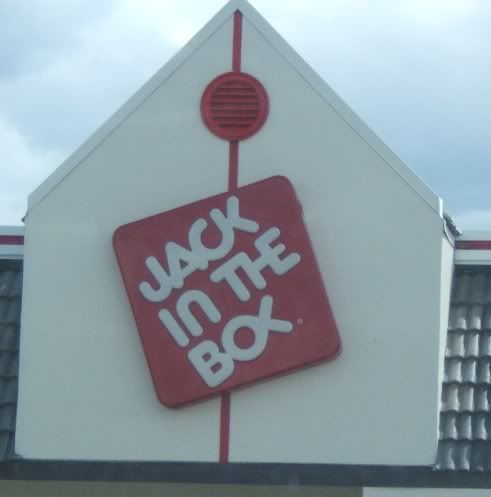 While I was at the SRFF I also got me a new t-shirt as the one I was wearing had a lovely stain on the front that I didn't know was there until I put the shirt on.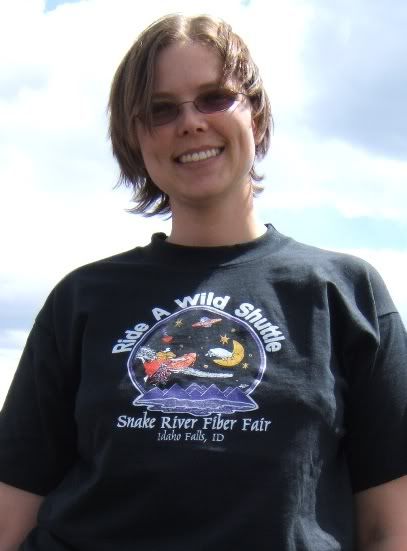 That's a weaving reference on the shirt. In case you don't know a shuttle is what holds the yarn/thread/fiber that you slide back and forth to make a woven fabric. I also got a new tote bag that I have started using on a daily basis for all the crap that wont fit in my purse.
I was also tempted by this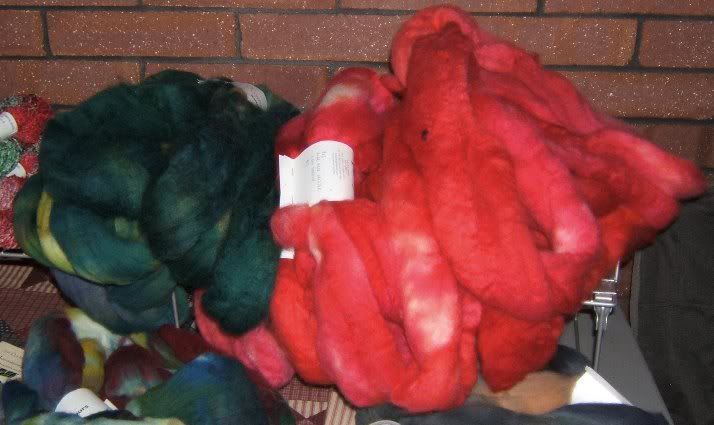 but ended up not buying it as I can dye some of the fleece that I bought.
*Edited for typos
That's all for today. I'll have more to post after getting back from Quest this weekend.